Do you want to invest in the progress of the cities and AI solutions, which support investment decisions?
Today, let's talk about how we can leverage technology for evedience-based policy & city decisions. Creating a successful city is no cakewalk, but AI can help us understand development patterns and identify areas that need improvement. By unifying data and creating a mathematical model for Digital Twin Cities, we can quickly assess the needs of a city and make decisions based on facts, not guesswork.
At Digital Twin, we've already processed data for over 1200 cities and 3000 municipalities worldwide to make it available for everyone on
https://dtwin.city
.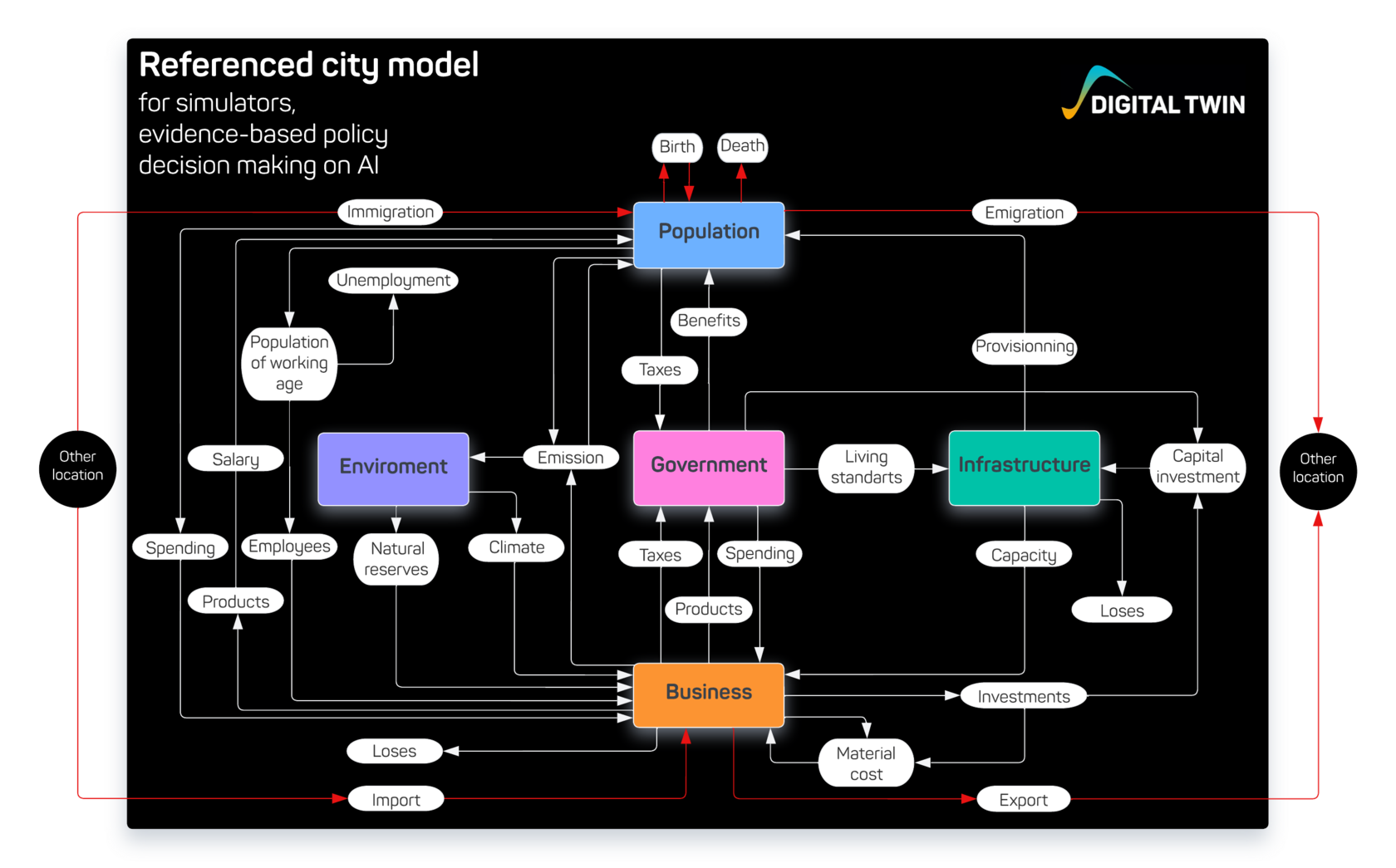 On the diagram you can see a reference city model we use to monitor city, collect and integrate data to build unique for each city digital twin, "what-if" & "how-to" decision. Its purpose is to ensure the integrity of statistical records, to identify errors and peculiarities of the city, to make clear the relationship of individual indicators of the city with each other.

(Color boxes in this schema reflect the functions with accumulations (which has their own conditions & structure), arrows show the resource flow direction, white boxes on arrows show variables on flow. Amount of input equals output flows.)

Our aim is to offer easy access to unified time-series datasets for all locations, demonstrating that Digital Twin Cities is a permanent analytical model that can help to answer fundamental questions and make robust management decisions.

We are using the model that includes most indicators for population economy, ecology, infrastructure, and management. Though each sphere has its unique structure and behavior, all are influenced by external factors.

With the use of AI technology, we can analyze these factors to make well-informed decisions and improve the city's overall well-being. At Digital Twin, our mission is not only to create a reference mathematical model for Digital Twin Cities but also to teach «ChatGPT-like» conversational AI to operate with analytical models and real-time data & facts more effectively.

We believe that together, we can help AI to be available for more responsible management decicions to make our societies more efficient, reliable and safe.

Are you eager to learn more about how digital twins can enhance problem-solving better than the intuition of the most seasoned expert?

Let's connect and explore how we can create global solutions in the field of AI for urban development.